THE WORLD'S BEST LUXURY MOBILE PHONE?

IT'S NOT ONLINE
A new luxury mobile phone combines precision engineering with ergonomic design and blissful disconnection. With the COVID-19 pandemic, the majority of us found ourselves glued more than ever to our screens. In fact, recent studies showed for adults, screen time has risen between 60–80 percent compared to pre-pandemic. Much of this is clocked up on a smartphone. Wasting time with mindless scrolling, mental health issues, a lack of connection with family and friends… these are all the reasons and more, behind the growing movement to quit the smartphone, delete social media accounts and return to the old fashioned handsets á la Nokia or Samsung circa 1995, which can make calls, receive texts, and not much beyond.
Mindful of this trend, a new handset maker, run by the former head of design for Vertu, has started making offline handsets. But these are a far cry from the brick-like 'burner' phones of yesteryear. Retailing upwards of £4,000, these handsets are made using the world's most precious materials, aimed at time poor high-fliers for whom a digital detox is the ultimate luxury.
The Surrey, UK-based company, XOR, (pronounced Eks-Or, the mathematical term used for the Boolean logic operation widely used in data encryption,) produces handsets for "people who appreciate the finer things in life," says Hutch Hutchison, XOR's Head of Design who was previously based at Vertu for nearly two decades.
"These handsets belong to the category of precious objects of desire that we hold closer than the tools we use, things like watches and jewellery. They are what might be called 'new luxury'," says Hutchison. "By this I mean the luxury of well-being. Not having to be connected to the Internet 24/7, but of secure communication with those who count."
Intelligent Protection
The new Titanium X2 handsets have been designed with all aspects of protection and safety in mind.
The XOR Operating System (XOR OS) is built in-house and protected by "hardware-based root of trust" to guarantee that itself and its user's data are free from virus and malicious code. XOR-Shield® is the patented technology that protects the new handsets from attacks to the SIM card, Baseband processor, and Radio Signal.
In more detail, XOR-Shield® operates on multiple levels within the device. It acts as a SIM firewall and scanner to protect your SIM card from violation, and as a baseband firewall, SMS filtering, and fake BTS (Base-Transceiver-Station) detection system to guard against remote cyber-attacks from all components of your mobile network.
Each handset is embossed with the XOR logo – the Shield Knot – which emphasises the promise of security representing an ancient symbol of protection.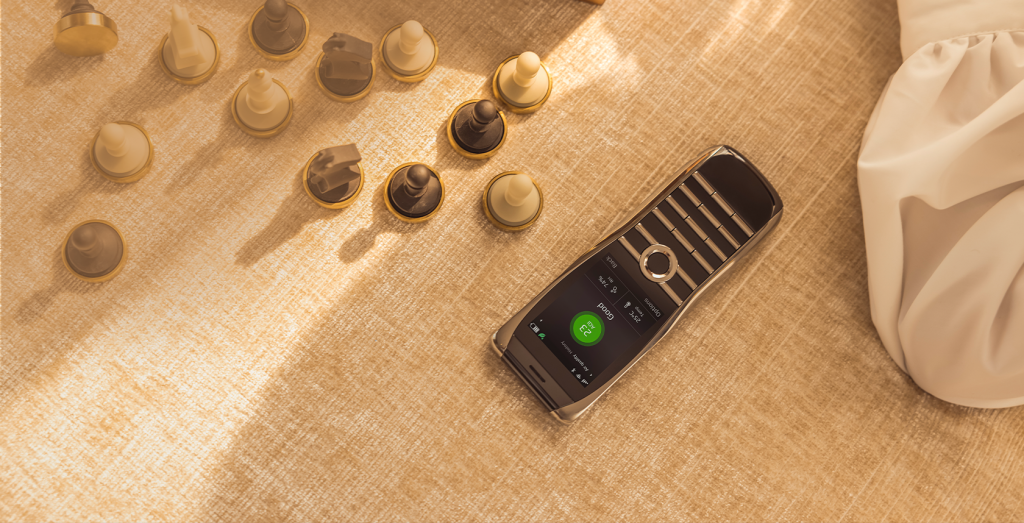 Exceptional Features
Each XOR Titanium X2 handset is meticulously hand-assembled using the finest and most precious materials, including blemish-free fine leathers from French tanneries that have serviced the luxury industry for over 100 years, high-tech ceramic similar to that used in spacecraft, sapphire crystal screens using sapphire grown from a single seed crystal at temperatures above 2000 degrees Centigrade, to provide a virtually scratch-proof screen. Titanium is used for the frame because it is strong as steel but weighs only half as much, so XOR phones are hypoallergenic, durable, and lightweight.
The top of the range handsets are highly luxurious, for example the XOR Bespoke Gold Elite handset uses 500 grams of solid gold for the main body, the keys, and logo and the back is covered in the finest, supple, and soft ebony alligator leather.
Every handset comes with features including an in-built indoor air quality meter to inform you of any pollutants around you, and a designer ringtone, created by multi award-winning recording artist, composer and producer, Mark Sayfritz. The designer ringtone delivers atmospheric ringtones for your calls which subtly indicate the secure or otherwise nature of any call or text you receive.
XOR has a bold vision – to become the world's leading luxury mobile phone.